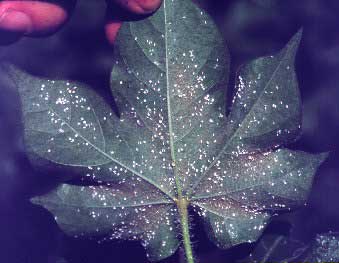 ---
Ellsworth, P.C.
,
T.J. Dennehy
, and R.L. Nichols. 1996 (Rev. 1/2001). Whitefly Management in Arizona, 1996. IPM Series No. 3. Publ. No. 196004. University of Arizona, College of Agriculture and Life Sciences, Cooperative Extension, Tucson, Arizona. URL: http://cals.arizona.edu/crops/cotton/insects/wf/cibroch.html
---
Integrated Whitefly Management
Areawide Management
The practices suggested here will be most effective when used on an areawide basis. They can also be used effectively by individual growers, but their benefits may be diminished by whiteflies invading from nearby crops.
Host Plant Sanitation
Promptly harvest all host crops and destroy residue immediately thereafter. Prevent regrowth after disking, especially in post-harvest melons and after defoliation in cotton.
Control weeds in non-crop areas, including head-rows and fallow fields.
Host Crop Sequence
Allow the maximum time possible between host crops.
In alfalfa: i) Delay fall establishment as long as possible. ii) In established fields, use fall dormancy and sheep feeding. iii) Use a minimum number of days between cuttings.
Terminate spring vegetable crops as early as possible.
Control whiteflies in spring sources such as melons.
Plant cotton away from spring whitefly sources and be attentive as spring sources are disked.
Cotton Management & Varieties
Plan to plant early and terminate early. Encourage uniform planting and termination dates within your community. Plant into favorable conditions.
In general, smooth-leaf varieties are less attractive and/or susceptible to whiteflies than hairy-leaf varieties.
Avoid moisture stress. It is associated with increased whitefly severity.
Optimize fruit set in the first fruiting cycle. Terminate irrigation at crop cutout.
Scouting and Decision-making
Routinely check all parts of all fields for whiteflies using adult (see IPM No. 2) and nymph scouting methods (see IPM No. 6). When populations exceed the thresholds, treat them where needed.
Be especially alert for rapid whitefly buildup when nearby host crops are in decline.
Sticky traps may be useful for detecting whitefly movement into cotton fields.
Timely insecticide treatment prevents outbreaks and reduces the chance of sticky cotton and yield loss. Always use action thresholds for insecticide application (see inside pamphlet).
Chemical Control & Resistance Management
Increased resistance to insecticides was observed in Arizona whitefly populations in the 1995 season. Management strategies which have been effective in the past may not work in 1996. The Southwest Whitefly Resistance Management Working Group has developed a three-stage chemical use program that represents the collective experience of Arizona pest managers for dealing with this problem.

This program incorporates new chemistry which will require different management practices within a long-term resistance management program. The basic strategy is to initiate whitefly chemical control with insect growth regulators (IGRs), to postpone the use of all pyrethroids until the end of the control period limiting the pyrethroid class to just two uses, and to use no active ingredient more than twice per season. We recommend sampling both nymphs and adult whiteflies, and using effective chemistry and recommended action thresholds. Sampling plans are explained in detail in University of Arizona, IPM Series No. 2 & 6. A listing of efficacious chemistry for each stage is provided in the 1996 update of Whiteflies in Arizona: Pocket Guide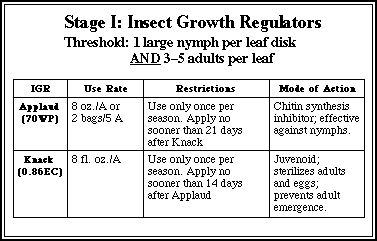 One use of each IGR will preserve their efficacy while potentially providing a combined total of up to six weeks control.
Using both nymph and adult thresholds insures that IGRs are used during periods of rapid whitefly increase. IGRs are most effective during this period.
Use for full field treatments only.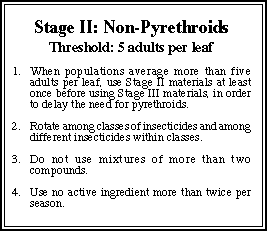 Postponing use of pyrethroids will delay development of resistance and minimize negative impact on natural enemy populations.
Use of mixtures of more than two compounds may exacerbate resistance development without improving whitefly control.
Limiting the use of any active ingredient will limit the development of resistance to that active ingredient and related compounds.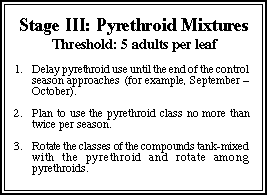 In areas with resistance problems, pyrethroid combination treatments may not perform satisfactorily if used more than twice.
Early use of pyrethroids may reduce their effectiveness later in the season, when whitefly populations are harder to control and bolls are open and susceptible to whitefly honeydew.
Early use of pyrethroids may also eliminate important natural enemies.
---
Based on information from:
Arizona Cotton Growers Association
Arizona Cotton Research and Protection Council
Arizona Department of Agriculture
Cotton Incorporated
Insecticide Resistance Action Committee
Southwest Whitefly Resistance Working Group
Sticky Cotton Action Team
United States Department of Agriculture
University of Arizona IPM Program
Support for printing the original of this publication provided by Cotton Incorporated.
---
Issued in furtherance of Cooperative Extension work, acts of May 8 and June 30, 1914, in cooperation with the U.S. Department of Agriculture, James A. Christenson, Director Cooperative Extension, College of Agriculture and Life Sciences, The University of Arizona.
The University of Arizona is an equal opportunity, affirmative action institution. The University does not discriminate on the basis of race, color, religion, sex, national origin, age, disability, veteran status, or sexual orientation in its programs and activities.
Any products, services, or organizations that are mentioned, shown, or indirectly implied in this web document do not imply endorsement by The University of Arizona.

---
Questions concerning this publication can be addressed to: peterell@ag.arizona.edu