Africanized Honey Bees on the Move
Lesson Plans
The University of Arizona
Africanized Honey Bee Education Project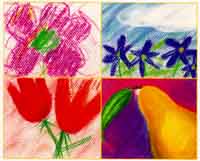 Africanized honey bees have moved into the Southwest and are here to stay. In addition to the safety issues that need to be addressed because of the defensiveness of these bees, honey bees are also fascinating subjects to study. These lesson plans were developed to familarize students with honey bees and bee safety issues through a variety of interesting activities.
These lesson plans are now available from the
Publication Distribution Center,
4042 North Campbell Avenue,
Tucson, Arizona 85719.
Phone: 520-318-7275
The price is $17.00, plus shipping.
Ask for publication #196025.
To order this publication directly using CALSmart, go to this page.
general instructions and information
Choose a grade cluster:

Instructions for Arizona Vocational Education Program
Technical questions about African honey bees can be directed to Dave Langston at langston@ag.arizona.edu
This document is located at http://ag.arizona.edu/pubs/insects/ahb/