Improving Nitrogen Management Efficiency

by Jeffrey C. Silvertooth,
Extension Agronomist, Professor & Head, SWES
Fertilizer nitrogen (N) prices have increased substantially in recent months, creating an increased interest among many growers in improving the efficiency of fertilizer N use in irrigated cotton. It is important to consider fertilizer N management in terms of optimum agronomic efficiency (uptake by the crop), economic efficiency (profitable yield response in relation to fertilizer cost), good fiber quality, and earliness. In this article I will briefly outline and review some of the basic points that are important in improving fertilizer N efficiencies in irrigated cotton. This is always important, but perhaps more so this season with higher fertilizer prices and low market values for cotton lint.
Split applications of fertilizer N - For the best opportunity of having the N in applied fertilizer being taken up by the plant, it is important to know the stages of growth when maximum N uptake and crop requirement occur. The N requirements of a cotton crop basically follow the same pattern as flowering or fruiting on the crop. Accordingly, N demand is very low early in the season, increases through early fruiting, reaches a peak demand at peak bloom, and gradually declines as the crop approaches and proceeds through cut-out. The "N Application Window" is often referred to as a period extending from the first pinhead squares (PHS) to peak bloom (PB) as shown in Figure 1 where N fertilization has the best chance of meeting crop needs.
Develop practical rates of fertilizer N - Rates of fertilizer N required by the crop will vary among fields. A good method to estimate N fertilizer needs can be based on realistic, projected yield goals in bales / A This number can then be multiplied by a factor of 60 to 70 lbs. N. This can provide an estimate of total N needs. Residual

in the soil and any

added to the crop through the irrigation water should be subtracted from the total estimated crop needs to determine the actual amount of fertilizer N needed. Applying 25 to 75 lbs. N/acre per application can provide sufficient N for the period of growth intended.
Monitor fruit load and vigor - Crop N demand is closely related to the fruit load on the plant. Basically, heavier boll loads require more N. Crop fruit retention (FR) patterns can be compared to established baselines for Arizona cotton (Figure 2). Since the FR level is directly related to crop N requirements, some assessment of crop vigor can provide an indication of this important aspect of the crop. A reliable measure of crop vigor can be obtained from the plant height (inches) to node ratio (HNR). This is taken from a simple measure of plant height (in inches) from the cotyledon nodes, or base of the plant, to the terminal and counting the number of mainstem nodes. The resulting HNR can then be compared to the established baselines shown in Figure 3. The crop's actual N fertility status can be assessed by measuring the

(nitrate -N) concentration in the petioles and referring to established and recently revised guidelines for both Upland and Pima cotton (Figure 4). Using these tools and measurements, a grower can adjust N management to actual crop conditions in the field and possibly save money by efficiently managing this important crop input.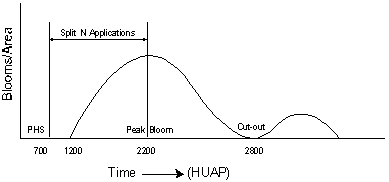 Figure 1. Recommended window for nitrogen applications.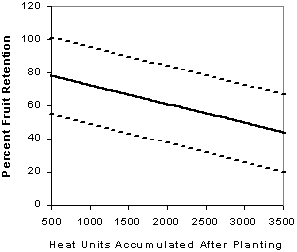 Figure 2. Fruit retention baseline with upper and lower thresholds.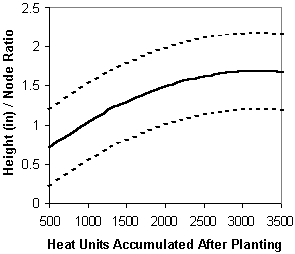 Figure 3. Height to node ratio baseline with upper and lower thresholds.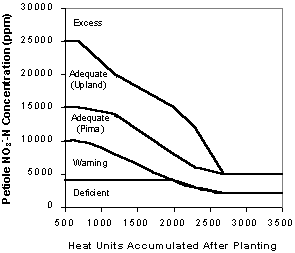 Figure 4. Petiole

guidelines for Upland and Pima Cotton.
---
Issued in furtherance of Cooperative Extension work, acts of May 8 and June 30, 1914, in cooperation with the U.S. Department of Agriculture, James A. Christenson, Director Cooperative Extension, College of Agriculture and Life Sciences, The University of Arizona.
The University of Arizona is an equal opportunity, affirmative action institution. The University does not discriminate on the basis of race, color, religion, sex, national origin, age, disability, veteran status, or sexual orientation in its programs and activities.
Any products, services, or organizations that are mentioned, shown, or indirectly implied in this web document do not imply endorsement by The University of Arizona.

---
Information provided by Jeffrey C. Silvertooth, silver@ag.arizona.edu
Extension Agronomist, Professor & Head, SWES, College of Agriculture and Life Sciences, The University of Arizona.
Material written 21 May 2001.