Despite the support provided by the government farm programs, market prices for cotton lint are still relatively low. In addition to low prices, the relatively high cost of production for most farms in Arizona, leads to a strong challenge for growers to achieve the highest possible level of efficiency in the production of a cotton crop. A high level of production efficiency means producing high yields in relation to the crop production inputs. Another approach would be to try to reduce the cost of production per pound of lint produced. Either way, there are several aspects of crop management that are essential to consider at this stage in the season.
I often refer to the period in the production cycle extending from the appearance of the first pinhead square (PHS) to peak bloom (PB) as "Prime Time" for the production of a cotton crop in Arizona. This is the best opportunity for establishing a strong fruit load and yield potential. There are four basic areas of crop management that need to be focused on at this stage of the season that I will briefly address in this article.
1. Optimum water management - Crop water stress should be avoided by the application of timely irrigations. Generally, soil moisture levels should not drop below 50% plant-available water (PAW). Irrigation frequencies will vary in relation to soil texture and condition, amounts of water applied, and weather conditions.
2. Split applications of fertilizer N - The nitrogen (N) requirements of a cotton crop basically follow the same pattern as flowering or fruiting on the crop. Accordingly, N demand is very low early in the season, increases through early fruiting, reaches a peak demand at peak bloom, and gradually declines as the crop approaches and proceeds through cut-out. Fertilizer N should usually be split into two to three applications of 50 to 70 lbs. N/acre during this period from PHS to PB (Figure 1).
3. Insect pest monitoring and management - This is always a critical aspect of cotton crop management and certainly goes beyond the scope of this article. However, it is important to emphasize the fact that fields should be monitored carefully for all insect populations. Appropriate recommendations are available through UA Cooperative Extension relative to management guidelines.
4. Monitor fruit load and vigor - Fruit retention (FR) patterns can be compared to established baselines for Arizona cotton (Figure 2). A reliable measure of crop vigor can be obtained from the plant height (inches) to node ratio (HNR). This is taken from a simple measure of plant height (in inches) from the cotyledon nodes, or base of the plant, to the terminal and counting the number of mainstem nodes. The resulting HNR can then be compared to the established baselines shown in Figure 3. This information can be valuable in making N fertilizer, plant growth regulator, and insect pest management decisions.
Each of these crop management factors can contribute significantly to the efficiency of a cotton production system in Arizona. The basic goals at this stage of the season is to accomplish an early crop if at all possible, monitor the crop, and be flexible (and timely) with management. Additional information and details can be obtained through the UA Cooperative Extension offices in each county or in the cotton section of the University of Arizona Crop Information Site (ACIS) http://cals.arizona.edu/crops/cotton


Table 1. Important growth stages for cotton crop development.
Stage

Pinhead
Square

First
Bloom

Early
Bloom

Peak
Bloom

Cut-out
(early)

Cut-out
(later)

HUAP

700

1200

1500

2000

2500

3000

NAWF

--

9-11

8-9

6-8

< 5

< 2
HUAP = Heat units (86/55 oF thresholds) accumulated after planting.
NAWF = Nodes above the top (first position) white flower.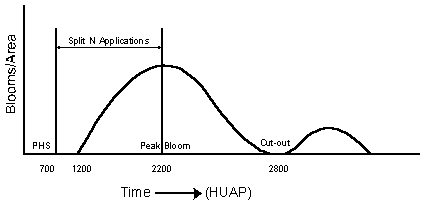 Figure 1. Recommended window for nitrogen applications.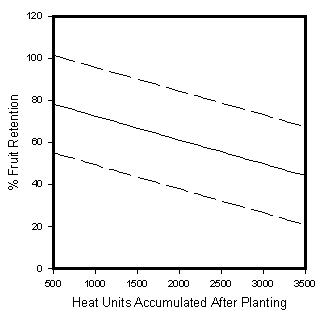 Figure 2. Fruit retention baseline with upper and lower thresholds for Arizona cotton.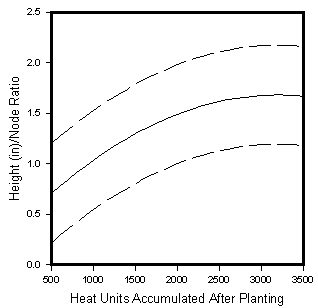 Figure 3. Height to node ratio baseline with upper and lower thresholds for Arizona cotton.
---
Issued in furtherance of Cooperative Extension work, acts of May 8 and June 30, 1914, in cooperation with the U.S. Department of Agriculture, James A. Christenson, Director Cooperative Extension, College of Agriculture and Life Sciences, The University of Arizona.
The University of Arizona is an equal opportunity, affirmative action institution. The University does not discriminate on the basis of race, color, religion, sex, national origin, age, disability, veteran status, or sexual orientation in its programs and activities.
Any products, services, or organizations that are mentioned, shown, or indirectly implied in this web document do not imply endorsement by The University of Arizona.

---
Information provided by Jeffrey C. Silvertooth, silver@ag.arizona.edu
Extension Agronomist, Professor & Head, SWES, College of Agriculture and Life Sciences, The University of Arizona.
Material written 10 June 2002.