Mid-Season Crop Evaluation, Nutrition, and Management

by Jeffrey C. Silvertooth,
Extension Agronomist - Cotton
The delays experienced earlier in the spring will probably continue to impact many fields to some extent for the rest of the season. Therefore, continual crop evaluation with appropriate adjustments in management will be very important in optimizing yield potentials. For example, by the time the crop reaches peak bloom, the applications of nitrogen (N) fertilizer should be completed. The management of N fertility of the crop can be important in managing the vegetative/reproductive balance. However, excessive rates of fertilizer N will not encourage crop growth such that plants can "catch up" from the delays experienced early in the season. In fact, excessive N fertility levels can actually further delay crop maturity.
Split applications of fertilizer N between the time the first pinhead squares (PHS) are formed to peak bloom (Figure 1) can provide adequate N fertility to the crop during the period of most rapid uptake and utilization. Also, appropriate timing of N applications will help maintain a good balance between reproductive and vegetative growth later in the season. Applications of fertilizer N past peak bloom can exceed the plant N needs for optimum yield. Even slight excesses in N fertility can promote vegetative growth and delay crop maturity. This was experienced, in some cases, in 1998 when we also had a rather late crop. With the delays experienced at the onset of the 1999 season, it is essential to avoid further delays in maturity or complications in crop management associated with fertilizer management. Most fields across the state should be completing the early stages of the fruiting cycle and approaching peak bloom by early July or at about 2,000 heat units accumulated after planting (HUAP, 86/55 ° F thresholds).
The amount of N fertilizer required to maintain optimum yield potentials will vary among fields depending on residual soil N levels, N in irrigation water, application efficiencies, and crop conditions. However, in general, if used appropriately, applications of fertilizer N totaling approximately 180 to 200 lbs. N/acre will be adequate. Appropriate use will include early, split applications (Figure 1) and an assessment of fruit retention (FR) and vigor in-season (Figure 2). If for example, fruit retention is low or declining for some reason and vegetative growth is increasing (increasing height to node ratio, HNR), reducing later N applications can be a very important adjustment. Water management would also be very important in this case, avoiding crop water stress, but also being careful not to over-irrigate which can also further stimulate vegetative growth.
Among the many factors that are important to consider in evaluating a cotton crop, fruit retention and an assessment of plant vigor are among the most critical. When evaluating fruit retention and crop vigor (often assessed by use of a height to node ratio) it is important to not only make note of present crop conditions, but also identify any patterns or trends associated with recent crop growth and development. Baselines developed in Arizona can be used to reference fruit retention and height to node ratio (vigor) conditions for any given field based on HUAP for a field (Figure 2).
Detailed plant mapping projects show that the highest proportion of yield, for most varieties, is established on the first 12 to 15 fruiting branches. By early July, much of the yield potential for a cotton field in Arizona will already exist on the plant in the form of squares and small bolls. Early July also commonly corresponds to the beginning of the monsoon season in Arizona, which can have a negative impact on cotton fruit retention. Therefore, good crop monitoring and evaluation can be very important to subsequent management decisions and efforts to maintain a good balance of plant growth.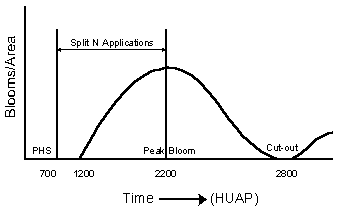 Figure 1. An illustration of the optimum time to apply fertilizer nitrogen (N application window) and the reproductive (fruiting) cycle for cotton plants.
Figure 2. Height to node ratio and percent fruit retention baselines for Arizona grown cotton varieties. The solid lines represent average values with observed variation indicated by the dashed lines.
---
Issued in furtherance of Cooperative Extension work, acts of May 8 and June 30, 1914, in cooperation with the U.S. Department of Agriculture, James A. Christenson, Director Cooperative Extension, College of Agriculture and Life Sciences, The University of Arizona.
The University of Arizona is an equal opportunity, affirmative action institution. The University does not discriminate on the basis of race, color, religion, sex, national origin, age, disability, veteran status, or sexual orientation in its programs and activities.
Any products, services, or organizations that are mentioned, shown, or indirectly implied in this web document do not imply endorsement by The University of Arizona.

---
Information provided by Jeffrey C. Silvertooth, silver@ag.arizona.edu
Extension Agronomist - Cotton, College of Agriculture, The University of Arizona.
Material written 12 June 1999.

---