At this stage in the 2000 season, Arizona is experiencing the development of a crop with very good potential overall. This has been perhaps one of the best seasons in recent years in terms of planting, stand establishment, and early crop growth and development. The spring and early summer weather was very cooperative for developing plants with strong early season vigor and good fruit retention. We had an early start on the monsoon season, but it quickly abated and has not caused significant problems to the crop – yet. Thus, compared to some of the previous seasons (i.e. 1998 and 1999) the stage of development of the 2000 cotton crop in most areas is significantly advanced in relation to the calendar. However, with respect to heat unit (HU) accumulations crop development thus far is predictably right on track. Some areas of the state have the potential to realize a very early crop with good yield potential. Yet, there are many important obstacles to cross before the final yields are harvested. No doubt a few new challenges remain this year.
According to the Arizona Agricultural Statistics Service, a total of 284,000 acres were planted to cotton in 2000. As shown in Figure 1, 275,000 acres consist of Upland (Gossypium hirsutum L.) varieties, and 9,000 acres are planted to American Pima (G. barbadense L.) cotton. This documents a very significant shift in cotton plantings in Arizona in the past 11 years. Since 1989, the San Joaquin Valley of California has been open to Pima plantings, and the proportion of the Pima acreage in the west has steadily shifted toward the San Joaquin. It appears that Arizona may have reached a stable ratio with respect to the Upland/Pima acreage. Interestingly, the primary areas of Pima plantings in Arizona exist at the extremes of the elevation including the Safford area (~ 3,000 ft. elevation) and the Yuma Valley (~ 100 ft. elevation). Even in Safford Pima acreage is notably lower this year.
Another very interesting facet of cotton production in Arizona involves the use of transgenic varieties. In 1996 the first transgenic varieties were commercially introduced in Arizona and the U.S. with the first Bt varieties. As shown in Figure 2 (based on seed sales), transgenic variety use in Arizona in 2000 is approximately 82% of the total acreage. Now we are planting not only Bt varieties, but also the Roundup Ready (RR) varieties, as well as the "stacked gene" varieties that consist of both Bt and RR characteristics. In 2000, the stacked gene varieties represent approximately 40% of the total acreage. This is a notable increase over the ~14% of acres planted to stacked gene varieties in 1999. The Safford Valley is one area that has experienced a rapid transition to varieties of this type in the past year. Arizona growers are rapidly adapting these technologies into existing and all new systems of cotton production with continuing efforts toward increasing efficiencies. For example, many growers are reducing tillage operations, maintaining or improving weed control, and drastically improving the cost of production.
Flexibility in management and the incorporation of new technologies will continue to be important features to maintaining cotton as a profitable and sustainable crop and for agricultural production in general in Arizona.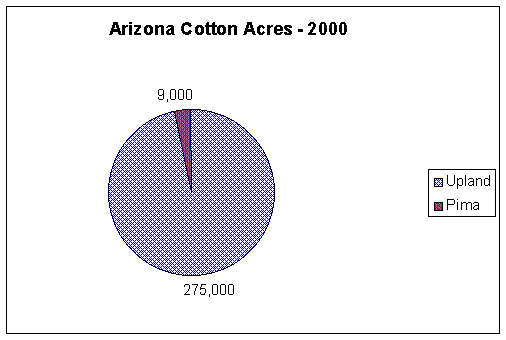 Figure 1. Upland and Pima cotton acreage in Arizona, 2000. (Source: Arizona Agricultural Statistics Services)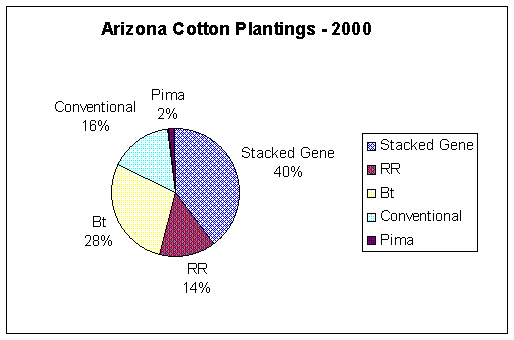 Figure 2. Percentages of cotton types being grown in Arizona, 2000. (Source: based on seed sales in Arizona)
---
Issued in furtherance of Cooperative Extension work, acts of May 8 and June 30, 1914, in cooperation with the U.S. Department of Agriculture, James A. Christenson, Director Cooperative Extension, College of Agriculture and Life Sciences, The University of Arizona.
The University of Arizona is an equal opportunity, affirmative action institution. The University does not discriminate on the basis of race, color, religion, sex, national origin, age, disability, veteran status, or sexual orientation in its programs and activities.
Any products, services, or organizations that are mentioned, shown, or indirectly implied in this web document do not imply endorsement by The University of Arizona.

---
Information provided by Jeffrey C. Silvertooth, silver@ag.arizona.edu
Extension Agronomist - Cotton, College of Agriculture, The University of Arizona.
Material written 21 July 2000.

---