Overall crop condition at this stage in the season in Arizona is reasonably good and developing a reasonable yield potential. However, poor fruit retention (FR) and high vigor conditions are common in many areas, particularly in some central Arizona locations. These conditions are also contributing to delayed crop maturity in some cases. As usual for this time in the season, there is a great deal of variability in crop condition, even within a given area.
The late maturity, poor FR, and excessive crop vigor conditions that presently exist in many low elevation locations are commonly a result of a combination of factors or events, including:
An exceptionally cool and delayed spring planting season, which resulted in

Delayed planting dates and a high rate of replanting in many areas
Poor seedling vigor

A continuing pattern of storms and cool weather in the spring, resulting in slow plant (root and shoot) development
Persistent winds and in some cases high thrips pressure, which resulted in a high rate of abortion of early squares
Continuation of poor crop vigor in the pre-bloom and early bloom stages of development
Localized and sometimes heavy and persistent lygus bug infestations

Contributing in many cases to substantial square damage and abortion
This was apparently related in many cases to the close proximity of some cotton fields to other crops that can serve as very effective hosts and prolonged sources of lygus bugs

The beginning of monsoon weather conditions in late June and early July

Resulting in an elevated rate of abortion of young (one to three day old) bolls, primarily at lower elevations (< 2,000 ft.)
Careful crop assessment at this point is critical considering the low market value of cotton fiber, particularly with respect to decisions concerning irrigation termination. Therefore, it is extremely important at this stage in the season to make a very thorough and objective assessment of crop conditions in an effort to decide on how long the crop should be carried.
The basic element governing these late season decisions is economics. Many fields have a lot of money invested in them already. The question basically becomes "What is the potential of being able to develop a significant yield late in the season while offsetting any additional costs?". More time in the field can result in higher yields but more costs as well. Prolonging the crop without a substantial gain in yield can also increase fiber micronaire, resulting in further discounts on fiber value. In late season field evaluations, I try to make an assessment of the following factors:
Current boll load and FR (refer to UA baselines, Figure 1A)
An estimate of current yield; ~ 20 bolls / foot of row (36 to 40 in. row spacings) equate approximately to one bale of yield / acre (~ 30 bolls / foot of row for Pima)
Stage of growth using a nodes above the top (first position) white flower (NAWF), refer to Table 1 and Figure 1B
Crop vigor (height:node ratio, HNR) and other plant expressions of vegetative growth tendencies
Insect pest populations
Variety (late season and back-fruiting potential)
Fruiting branches currently available on the plant
Incidence of any plant disease problems
Late season fertility needs (particularly N)
Irrigation costs
Land rotational needs
Elevation and probable length of the available crop producing season
Your best weather forecast, and
Budget
Additional factors may need to be considered and each field needs to be evaluated on a case by case basis. Many growers are faced with some very difficult decisions at this time. It is important to make a careful evaluation of all fields and consider production potentials and constraints as objectively as possible.
Table 1. Important growth stages for cotton development.
Stage

PHS

MHS

FB

EB

PB

Cut-out

HUAP

700

900

1200

1500

2000

2500

3000

Nodes

9

11

13

16

20

24

28

NAWF

-

-

9-11

8-9

6-8

<=5

<2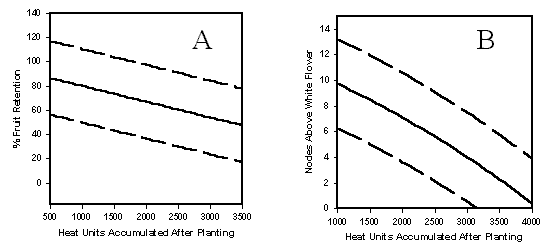 Figure 1.
A) Fruit retention (FR) baselines for Arizona cotton and B) nodes above the top (first position) white flower (NAWF) baselines for Arizona cotton both as a function of heat units accumulated after planting (HUAP, 86/55 °F thresholds).
---
Issued in furtherance of Cooperative Extension work, acts of May 8 and June 30, 1914, in cooperation with the U.S. Department of Agriculture, James A. Christenson, Director Cooperative Extension, College of Agriculture and Life Sciences, The University of Arizona.
The University of Arizona is an equal opportunity, affirmative action institution. The University does not discriminate on the basis of race, color, religion, sex, national origin, age, disability, veteran status, or sexual orientation in its programs and activities.
Any products, services, or organizations that are mentioned, shown, or indirectly implied in this web document do not imply endorsement by The University of Arizona.

---
Information provided by Jeffrey C. Silvertooth, silver@ag.arizona.edu
Extension Agronomist - Cotton, College of Agriculture, The University of Arizona.
Material written 14 August 1999.

---