As mentioned in an earlier update (Vol. 2, No. 17, Aug 24, 2011), Bagrada bug adult numbers were relatively low at the beginning of the growing season in September this year in the Yuma and Dome Valley. However, over the past 7-10 days PCAs from Yuma, Coachella and Imperial Valley have reported heavy Bagrada bug activity in cole crops. Not sure why they showing up later this season since last fall they began migrating into fields in heavy numbers during early September. Nonetheless, control of Bagrada is necessary under these population pressures and warm growing conditions. Research conducted this fall shows that seedling plants (cotyledon to 2-3 leaf stages) are very susceptible to damage. In one trial, untreated broccoli direct-seeded on September 14 sustained about 15% damage (blind plants/multi-terminals) at thinning under what I perceived to be light Bagrada pressure ( on average we estimated ~1 adult per 3 row ft). Thus with the numbers that are now being reported, it will be important to control the adults on young stands. This includes chemigation with pyrethroids, and using contact insecticides (pyrethroids, Lannate, Lorsban) by air or ground. Trials this fall suggest that about 4-5 days residual can be expected with these treatments. We are also finding feeding signs (star-burst shaped lesions) on the terminal leaves of older plants (>6 lf stage), but it is unknown at this time whether Bagrada infesting larger plants will result in yield losses. However, if large numbers of Bagrada adults are present on older plants it is recommended that sprays be applied to reduce their numbers. Dinotefuron (Venom/Scorpion) applied in alternation or combination with pyrethroids/OPs/carbamates has been shown to provide good protection Bagrada feeding. Finally, we are observing a strong correlation between adults found on or under plants, and the presence of fresh feeding signs on the terminal leaves in infested plots. This suggests that when scouting for Bagrada in fields, inspect young leaves for fresh feeding signs, as well as for adults on plants and on the soil surface.
Bagrada Bug Adult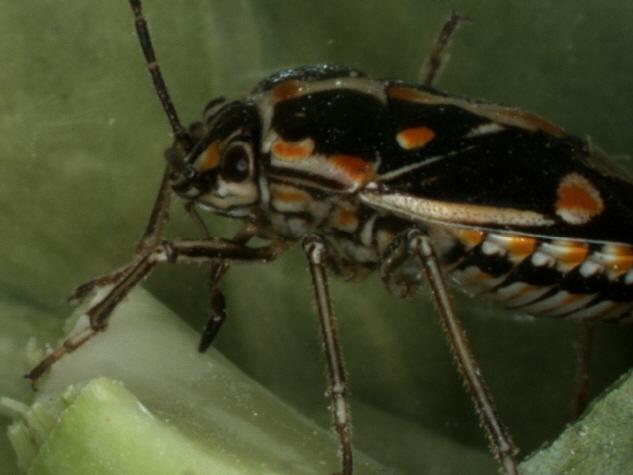 To contact John Palumbo go to: jpalumbo@ag.arizona.edu
---
For questions or comments on any of the topics please contact Marco Pena at the Yuma Agricultural Center.
College of Agriculture, The University of Arizona, Tucson, AZ.

---